Classical KUSC: Spring Festivals in Germany!
Tour Ideas: Historic Anniversaries
"We are such stuff as dreams are made on, and our little life is rounded with a sleep" ~ The Tempest, IV, i
Have you dreamed of travelling to England? Mayhaps this be the perfect opportunity! The year 2016 marks the 400th anniversary of the death of the great playwright William Shakespeare, a PBS Masterpiece staple, who shuffled off this mortal coil on April 23, 1616, in Stratford-upon-Avon. The Grand Tour designs custom tours of Tudor England, which can include Stratford-upon-Avon, the Cotswolds, Oxford, Winchester, Glastonbury Abbey, Windsor Castle and, of course, London. Not to be missed are viewings of the original manuscripts at the British Library, a production by the Royal Shakespeare Company in Stratford or London, and a performance at the Globe Theatre in London, faithfully reproduced from its 16th century original. In celebrating the spirit of the great Bard, we will sumptuously feast at the finest establishments and rest our heads in welcoming, excellent inns. Anniversaries of important events or the birth and death of illustrious persons make great thematic ideas around which to organize a tour. We led an opera tour to Italy for the syndicated program "World of Opera" celebrating the 200th birthday of Giuseppe Verdi in 2013. This year commemorates the sad onset of The Great War 100 years ago and the 70th of D-Day in Normandy. We have expert guides who take you to the battle sites, museums and cemeteries that dot France and Belgium honoring the baleful events that shaped the modern world. Contact us for ideas that match your mission, goals and programming!
Tour Leader: James M'Kenzie-Hall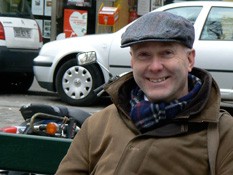 Dr. James M'Kenzie-Hall leads our tours
throughout Europe and is considered by many to be
the best English-speaking guide in Paris.
TGT:  What led you to be a Tour Leader?
JMH: An academic year at the Sorbonne in Paris for a Masters in Art History led to a lifetime curiosity in European culture.
TGT: How long have you been leading tours?
JMH: From 1990-2000 I led 156 two-week tours in Europe. Now, with a PhD in art history, I combine my academic career with cultural travel which is very rewarding.
TGT: What is your favourite part of leading tours?
JMH: Creating a group dynamic and enabling the group to make sensé of the 2000 years of European history by 'connecting' the jigsaw puzzle to create an overall picture.
TGT: What is your favourite place to travel to?
JMH: That is difficult to answer but, like the conclusion of Voltaire's Candide or Tolkein's The Hobbit, once you've travelled the world, you appreciate and can put in perspective all that you've seen and expérienced even if you conclude that the best place is home.