Books We Like: Budapest, Vienna & Prague
GUIDES
There are several good guidebooks to choose from for all three cities; here are the two we like best::
Eyewitness Travel Guides:
Vienna, DK Publishing, 2014; Budapest, 2015; Prague, 2015
Very popular guides, heavily illustrated, strong on practical info, and excellent maps.
Also Top 10 Guides to each city.
Blue Guides:
Bob Dent, Blue Guide Budapest, Norton, 2nd ed., 2001
Nicholas T. Parsons, Blue Guide Austria, Norton, 4th ed., 2000
Jason Tilbury, Blue Guide Prague, Norton, 2nd ed., 2004
Though not with recent editions, easily the most serious, detailed guide to the art, architecture and history in English. Good practical info, no photos.
GENERAL HISTORY & CULTURE
Lonnie Johnson, Central Europe: Enemies, Neighbors, Friends, Oxford University Press, 2010
A historical survey of Central Europe covering contemporary Germany, Poland, the Czech Republic, Slovakia, Austria, Hungary, Slovenia, and Croatia.
Magris, Danube: A Sentimental Journey from the Source to the Black Sea, Farrar, Straus and Giroux, 2008
The author tracks the Danube River, the pulse of Central Europe, the crucible of a culture that draws on influences of East and West, Christianity and Islam.
Patrick Leigh Fermer, A Time of Gifts, Between the Woods and the Water, and The Broken Road, NY Review, 2005, 2015
An extraordinary trilogy by a great travel writer of his trek across the continent as a teenager. The middle volume covers much of Central Europe, including Budapest and Prague.
BUDAPEST:
Istvan Bart, Hungary and the Hungarians, Corvina, 1999
Lively, humorous insight into Hungarian culture.
Magda Denis, Castles Burning, Touchstone 1997
Memoir of life in Budapest seen through the eyes of a 10-year old Jewish girl.
Peter Hanak, The Garden and the Workshop, Princeton, 1998
Essays on the cultural history of Vienna and Budapest.
Paul Lendvai, Blacklisted: a Journalist's Life in Central Europe, Taurus, 1998
Written by a victim of both fascists and communists, with an overview of Hungarian history.
John Lukacs, Budapest 1900: A Historical Portrait of a City and its Culture, Grove Press, 1990
A distinguished historian writes of a city at the height of its powers
Susan Suleiman, Budapest Diary
Memoir of a current Harvard professor, born in Budapest, left as child in 1948, now returning.
VIENNA:
Istvan Bart, Hungary and the Hungarians, Corvina, 1999
Lively, humorous insight into Hungarian culture.
Stephen Brook, The Double Eagle: Vienna, Budapest and Prague, London, 1988
Edmund de Waal, The Hare with the Amber Eyes, Farrar, Straus, 2010
Moving family memoir of the misfortunes of European Jewish banking during and after the war
Frederic Morton, A Nervous Splendor: Vienna 1888/89, Penguin, 1980 (orig. 1979)
Entertaining read, which includes a bizarre story about Bruckner!
Nicholas Parsons, Vienna: A Cultural History, Oxford University Press, 2008
Excellent primer on the history and culture of the city
Carl E. Schorscke, Fin de Siecle Vienna: Politics and Culture, Vintage, 1980
Acclaimed and original exploration of the period and place.
Allen Janik & Stephen Toulmin, Wittgenstein's Vienna, Simon & Schuster, 1973
Another notable cultural history around the culture of the dying empire before WWI.
Kirk Varnedoe, Vienna 1900: Art Architecture, Design, MOMA, 1986
From the late, lamented curator of the Museum of Modern Art, covering 1900-1918.
Andrew Wheatcroft, The Hapsburgs, Penguin, 1997 (orig. 1995)
PRAGUE:
Peter Demetz, Prague in Black and Gold, 1997
Clear and scholarly.
Angelo Maria Ripellino, Magic Prague, 1995 pb.
Overly erudite but contains exciting and fanciful ideas about the city.
Vaclav Havel, Paul Wilson, Summer Meditations, Vintage, 1993
The first leader of the post-Soviet Czech Republic grapples with the challenges of political change.
Jan Kaplan, A Traveller's Companion to Prague, Interlink, 2005
The turbulent history of "The City of a Hundred Spires" revealed through eyewitness accounts from medieval to modern times, including Petrarch, Hans Christian Anderson, and Graham Greene.
Melissa Muller, Alice's Piano: The Life of Alice Herz-Sommer, St. Martin's Press, 2012
Alice Herz-Sommer, a talented pianist born in Prague, was sent to a Nazi concentration camp in 1943 with her husband and six-year-old son. In the midst of horror, music was Alice's salvation In more than a hundred concerts, Alice gave her fellow prisoners hope in a time of suffering. 
MUSIC
Daniel Heartz, Music in European Capitals: The Galant Style, 1720-1780 (2003);
Mozart, Haydn, and Early Beethoven: 1781-1802 (2008)
Scholarly but wonderfully accessible, you can dip in and out of each volume.
Charles Rosen, The Classical Style: Haydn, Mozart, Beethoven, Norton, 1998 (expanded includes CD, orig. 1972)
A classic book by a pianist/professor about the Viennese Classical School.
Maynard Solomon, Mozart, Harper, 1995 & Beethoven, 2001, Schirmer (2nd ed.)
If you like or tolerate a psychobio, two interesting ones.
W.N. Sullivan, Beethoven: His Spiritual Development, Sullivan Press, 2008 (orig. 1927)
Not a bio, not by a music expert, but a timeless book on the creative genius and art.
Alexander Wheelock Thayer, Life of Beethoven, ed. Elliott Forbes, 2 vols. Princeton, rev. 1991 (orig. 1866-1908)
Completed by others from his notes and after many updating, still a standard reference.
Robert Winter & Robert Martin, eds., The Beethoven Quartet Companion, Univ. of California, 1994
Interesting essays which put the quartets in context historically, culturally, and in performance.
FICTION
James Naughton, Traveller's Literary Companion to Eastern and Central Europe, Brighton, 1995.
Marion Crawford, The Witch of Prague, London, 1976.
Martha Gellhorn, A Stricken Field
Autobiographical novel of an American journalist working in Prague after the Munich Pact of 1938.
Graham Greene, The Third Man
Novella set in Vienna, and most famously made into a film.
Franz Kafka, Metamorphosis and Other Stories
Also: The Trial, The Castle
Gustav Meyrink, The Golem, 1913-14
Classic work of historical fiction
Robert Musil, The Man without Qualities, Vintage, 1996 (2 vol., trans. Wilkins; orig. 1943)
The great novel of fin-de-siecle Vienna. Also: The Young Torless
Jan Neruda, Prague Tales, London, 1993 (trans M.H. Heim, orig. 1878)
Philip Roth, The Prague Orgy, London, 1985
Arthur Schnitzler, stories and novellas
Jiri Weil, Life with a Star, 1947
Mendelssohn is on the Roof, 1960 (both trans. M. Winn)
Bleak but ironic and savagely humorous evocations of Jewish life in Prague during the war.
Stefan Zweig, stories, and his autobiography, The World of Yesterday, U. of Nebraska Press, 1964
FILMS
The Golem (Carl Boese & Paul Wegener, 1920)
Classic German silent horror film.
Liebelei (Max Ophuls, 1933, in German)
Mayerling (Anatole Litvak, 1936, in French)
Charles Boyer and Danielle Darrieux as Archduke Rudolf and Maria Vetsera.
Hangmen Also Die! (Fritz Lang, 1943)
Noir about the assassination of a Nazi leader by Czech resistance fighters.
Letter from an Unknown Woman (Max Ophuls, 1948)
Story by Stefan Zweig; a concert pianist and his admirer.
The Third Man (Carol Reed, 1949)
Screenplay by Graham Greene, plus Orson Welles and that music!
Amadeus (Milos Forman, 1984)
Based on the play by Peter Schaffer, and filmed mostly in Prague.
Before Sunrise (Richard Linklater, 1995)
Julie Delpy and Ethan Hawke hanging out in Vienna.
Gloomy Sunday (Rolf Schübel, 1999, in German and Hungarian)
Budapest in the 1930s.
Sunshine (Istvan Szabo, 1999)
The fate of an Hungarian Jewish family throughout the 20th century; with Ralph Fiennes.
The Lives of Others (von Donnersmark, 2006, in German)
Takes place in East Berlin, but a chilling evocation of the Stasi's work.
Books We Like: San Francisco
GUIDES
There are many good Italy guidebooks to choose from. here are a few we like:
Eyewitness Guide San Francisco & Northern California
Handsome, convenient and up-to-date, this is the guide to carry. With maps. 2013
Lonely Planet Northern California
A comprehensive, practical guide to Northern California with color photographs and excellent local maps. 2012
National Geographic San Francisco
A compact guidebook to San Francisco, published by National Geographic in its attractive, visual style. 2013

HISTORY/CULTURE/NATURE
San Francisco, A Cultural History 
Covers the gold rush, architecture, earthquakes, eccentric personalities, entertainment, diverse population and landmarks.
By Mick Sinclair. Interlink, 2010
A Crack in the Edge of the World: America and the Great California Earthquake of 1906 
A fascinating account of the great 1906 earthquake. By geologist, master storyteller, traveler and journalist, Simon Winchester.
Harper Perennial, 2006
The Birth of the Beat Generation: Visionaries, Rebels, and Hipsters, 1944- 1960
Traces the lives of Kerouac, Ginsberg, Burroughs et al from their initial meetings in New York to their rise to literary fame.
By Steve Watson. Pantheon, 1995
Herb Caen's San Francisco: 1976- 1991
A compendium from San Francisco's favorite columnist.
Chronicle Books, 1992
Architectural Guidebook to San Francisco and the Bay Area
Discusses transportation, city and suburban landscapes, public parkland, California history, and economic, social, and political influences.
By Susan Cerny. Gibbs Smith, 2007
The Wilderness World of John Muir
Conservationist John Muir's vision of America comes to life in these fascinating selections from his personal journals.
Mariner Books, 2001
FICTION
Travelers' Tales San Francisco 
An engaging, insightful and entertaining selection of eyewitness reports, all set in the city of San Francisco.
Travelers' Tales, 2002
Tales of the City
A novel about the mythic apartment house at 28 Barbary Lane, Tales is both a sparkling comedy of manners and an indelible portrait of an era that changed forever the way we live.
By Armistead Maupin. Harper Perennial, 2007
The Maltese Falcon 
A treasure worth killing for, with Sam Spade, a slightly shopworn private eye with his own solitary code of ethics.
By Dashiell Hammett. Vintage, 1989
The Joy Luck Club
In 1949 four Chinese women, recent immigrants to San Francisco, begin meeting to eat dim sum, play mahjong, and talk. 40 years later the stories and history continue.
By Amy Tan. Penguin, 2006
Tour Ideas: Historic Anniversaries
"We are such stuff as dreams are made on, and our little life is rounded with a sleep" ~ The Tempest, IV, i
Have you dreamed of travelling to England? Mayhaps this be the perfect opportunity! The year 2016 marks the 400th anniversary of the death of the great playwright William Shakespeare, a PBS Masterpiece staple, who shuffled off this mortal coil on April 23, 1616, in Stratford-upon-Avon. The Grand Tour designs custom tours of Tudor England, which can include Stratford-upon-Avon, the Cotswolds, Oxford, Winchester, Glastonbury Abbey, Windsor Castle and, of course, London. Not to be missed are viewings of the original manuscripts at the British Library, a production by the Royal Shakespeare Company in Stratford or London, and a performance at the Globe Theatre in London, faithfully reproduced from its 16th century original. In celebrating the spirit of the great Bard, we will sumptuously feast at the finest establishments and rest our heads in welcoming, excellent inns. Anniversaries of important events or the birth and death of illustrious persons make great thematic ideas around which to organize a tour. We led an opera tour to Italy for the syndicated program "World of Opera" celebrating the 200th birthday of Giuseppe Verdi in 2013. This year commemorates the sad onset of The Great War 100 years ago and the 70th of D-Day in Normandy. We have expert guides who take you to the battle sites, museums and cemeteries that dot France and Belgium honoring the baleful events that shaped the modern world. Contact us for ideas that match your mission, goals and programming!
Great Music Capitals: Vienna & Prague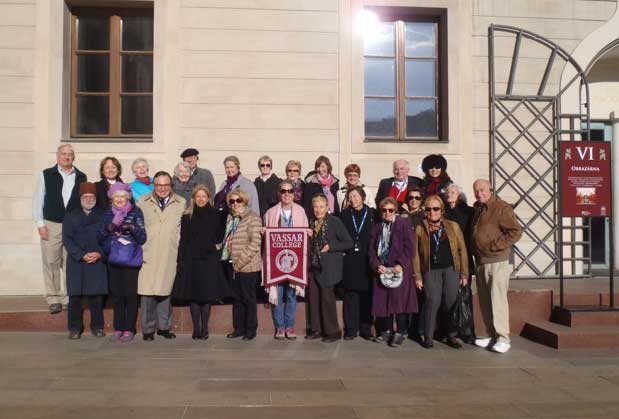 Vassar College Alumnae/i Travel took a Great Music Capitals tour with The Grand Tour to Vienna and Prague with Vassar professor Dr. Kathryn Libin last October.
The organization of this trip was superb and everyone commented on it. [Tour director] James was incredible and seemed to be aware of any possible problem and planned for it. The theater seats were exceptional. There was a perfect combination of activity and free time. ~ Kathy McKnight, Vassar College class of 1966
In Your Own "Grand" Backyard
The whole object of travel is not to set foot on foreign land; it is at last to set foot on one's own country as a foreign land. ~ G.K. Chesterton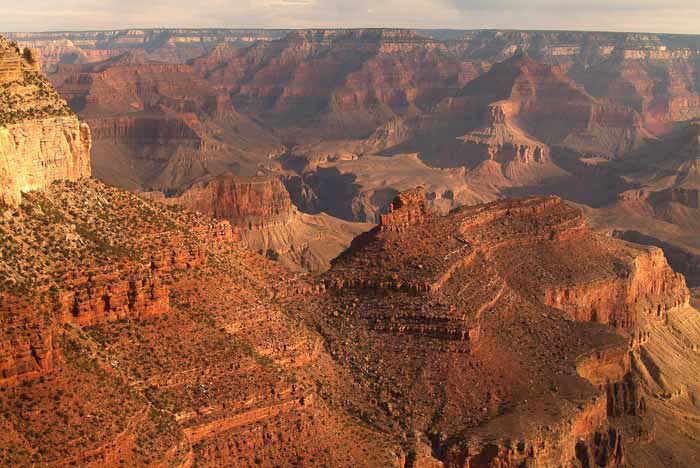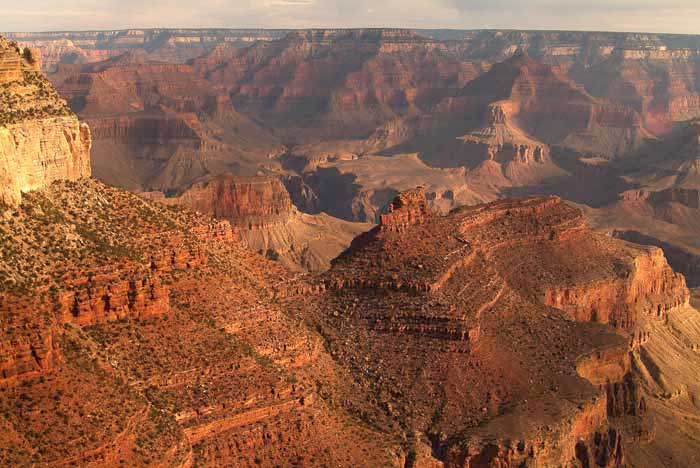 When The Grand Tour organized a trip to the three great National Parks — Grand Canyon, Yosemite, and Yellowstone — for WGBH Boston, the primary TV producer of the Ken Burns series "America's Best Idea," we consulted Mr. Burns. "Why not do a more circumscribed tour to Zion and Bryce Canyon along with the Grand Canyon?" he told us. But we knew that many people have never visited the "Crown Jewels" as the three biggies are called. And it was true; the tour sold out in less than two weeks.
America's National Parks, created under the impetus of Teddy Roosevelt's landmark Antiquities Act in 1906, are truly America's cathedrals. We cannot match the European cities with their astounding architecture and art treasures built over centuries of history, but in the wide open spaces of the West the US reigns supreme. The geology of the immense canyons carved out of centuries of erosion; the majestic mountains, lofty redwoods and sequoias; animals in the wild. Nature in America takes your breath away!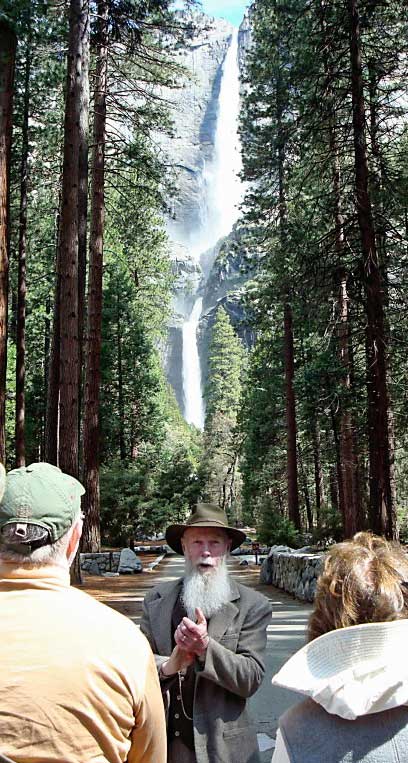 Our National Park system is not the only magnificent destination in the US. Think of beautiful San Francisco. Nestled amidst seven hills on a picturesque bay, it is rich in historical sites, panoramic views, great food and outstanding hotels. Not to mention the unrivalled wine in nearby Napa and Sonoma. Think New York, the center of the world, unlike any city in its sheer verticality, a surprise around every corner. Think Chicago, a city rebuilt from the ground up after the Fire of 1871, a city which encourages great architects, making an unparalleled showcase of 20th and 21st century building. The gorgeous Berkshires in western Massachusetts boast an array of cultural activities in the summer: Tanglewood, MassMOCA, Jacob's Pillow Dance, the Norman Rockwell Museum, the Clark Art Institute are just a few.
Our American history evokes broad interest. Boston has many original sites where the story of the American Revolution can be explored. The graceful cities of Savannah and Charleston make a perfect base to explore antebellum South and the Civil War. Santa Fe, the oldest city in America, boasts ancient and modern Indian pueblos and an amazing Hispanic culture, Georgia O'Keeffe and outstanding art galleries, world class opera and fine dining.  Have you been yet?
WHERE WE STAY
GRAND CANYON NATIONAL PARK
El Tovar: Grand Canyon National Park
Tel: 928.638.2631
www.grandcanyonlodges.com
YOSEMITE NATIONAL PARK
The Ahwahnee
Tel: 209.372.1407
www.yosemitepark.com/Accommodations
YELLOWSTONE NATIONAL PARK
Old Faithful Inn
Tel: 307.344.7311
www.yellowstonenationalparklodges.com
SAN FRANCISCO
Huntington Hotel
1075 California Street (Nob Hill)
Tel: 415.474.5400
www.huntingtonhotel.com
NEW YORK
Hotel Plaza Athénée
37 East 64th St. (bet. Madison & Park)
Tel: 212.734.9100 / 800.447.8800
www.plaza-athenee.com
SANTA FE
La Posada de Santa Fe Resort & Spa
330 East Palace Avenue
Tel: 505.986.0000 / 866.331.7625
www.laposada.rockresorts.com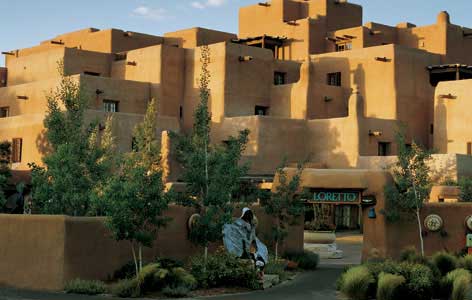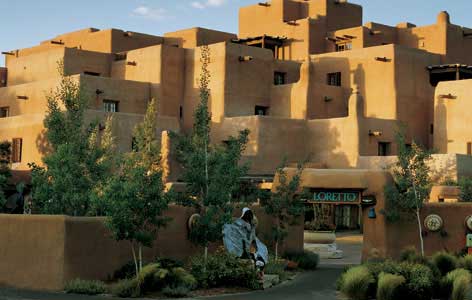 Inn and Spa at Loretto (left)
211 Old Santa Fe Trail
Tel: 505.988.5531 / 800.727.5531
www.innatloretto.com
Tour Leader: Alasdair Clayre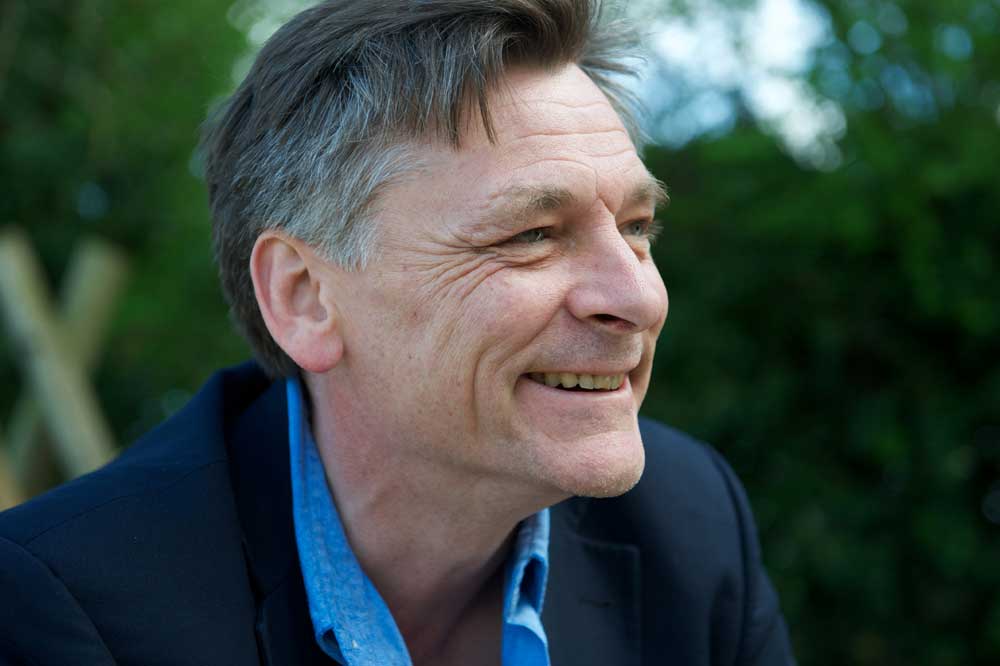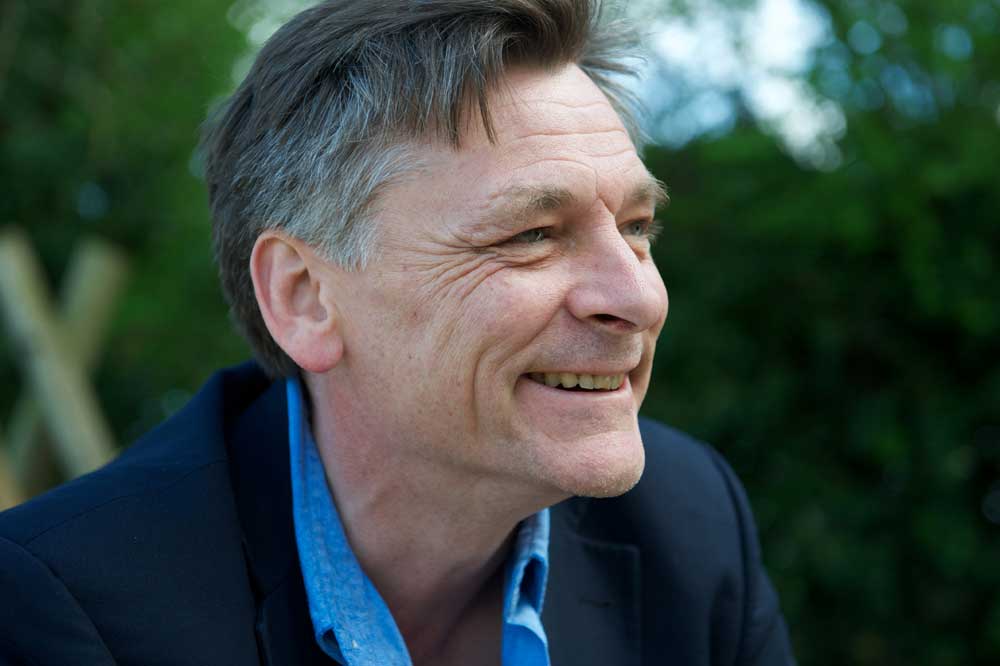 Alasdair Clayre leads our Downton Abbey tours.
TGT:   What led you to be a Tour Leader?
AC:  My mother's father and his brothers were ships' captains from Shetland and settled in the four corners of the globe. My grandparents met on a voyage returning from South America. I was born in Borneo and grew up in a tribe. I think travel was in my blood! We moved back to Britain as the family grew. My mother dragged me round cathedrals and castles and archaeological digs in Spain, or I visited the Bedouin in Arabia and climbed in the Canadian Rockies where my father was building hospitals. I was fortunate to be educated at Winchester and Cambridge and enjoyed putting on plays and taking Shakespeare on tour throughout Europe. This led me to Columbia University Film School. It was in between film shoots I was asked to lead my first tours and my tour-leading took off. I enjoyed not just the logistical challenges, but the opportunity to help others understand and access different cultures and perspectives. Once guiding a group through Chartres Cathedral one of the group flattered me: "You're such a good teacher." "I'm not sure about that," I replied, "but just look at my classroom!" Travel is the best education, for the open-minded.
TGT: What is your favorite part of the Downton tour?
AC: I love watching jaws drop and smiles grow at the splendour of Highclere, or Blenheim or Bath, but my favourite parts of the tour are when we are living that privileged life a little, at lunch in a St James's Club, High Tea in Ston Easton or dining in an Oxford college. The greatest surprise for participants is how down-to-earth are the real aristocrats!
TGT: What would enhance one's experience on tour?
AC: The best way to see these old cities is on foot. Whilst you don't need to be ready to run a marathon, we must cover a couple of miles inside the House of Lords alone! And then, meet the English! Step into a local pub or tearoom and chat.